BEFORE Corte Clean® working
AFTER Corte Cleaned
BEFORE – Mold Stained Home Depot® Veranda®
AFTER – Corte Cleaned
If Corte*Clean® has not been used before, it will clean composites of the tannin, from the dead organic material, such as wood fiber, from which most composites are partially made. Unlike sodium hypochlorite and/or oxalic acid based products, which only bleach then brighten the wood fiber, Corte*Clean® will stop what is commonly referred to as "tannin bleeding." Failure to thoroughly remove the food source that fungi feed on generally exacerbates fungus growth.
BEFORE – Mold Stained ChoiceDek®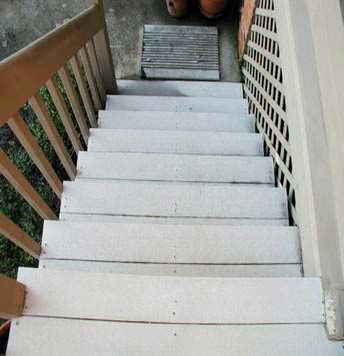 AFTER – Corte*Cleaned®
It generally takes two (2) "repeat" applications of Corte*Clean® at "maximum strength" to clean new composites of tannins and stains when first noticed.  A bag of Corte*Clean® is designed to clean approximately "300" square feet of composite at "maximum strength" with two (2) "repeat" applications. If the composite intended to be cleaned has excessive tannin bleeding, has been neglected, or previously cleaned with other products, such as those that contain sodium hypochlorite or oxalic acid, additional "repeat" Corte*Clean® applications may be necessary to thoroughly Corte*Clean®, requiring the purchase and use of additional Corte*Clean® to initially clean the composites.
Mold Stained ChoiceDek®
After one Corte*Clean® application. Needs another!
When Corte*Clean® is proactively used, as it is designed and intended, prior to stains occurring, one (1) bag of is designed to maintain the clean appearance of approximately 500 square feet of composites, with one (1) application, twice (2x) per year, Spring & Fall, or before stains appear. It is always best to proactively Corte*Clean® composites before it rains or the composite receives moisture. Proactively  Corte*Cleaning® prevents the build-up of mold spores, pollen and other debris that cause fungus stains, while naturally rinsing any remaining Corte*Clean®, saving time and water.
Neglected Mold Stained ChoiceDek®
Corte*Cleaned® ChoiceDek® that needs to be exposed to sunlight to even out the color.
Half Corte*Cleaned® Mold Stained Fiberon® Deck wet w/ water
Corte*Clean® cleaning a Trex® deck, with Corte*Clean® powder on area wet with Corte*Clean®

Trex®deck Corte*Cleaned®
Corte*Clean® Cleans Grease, Oil, Rust & other stains commonly under the BBQ.
Corte*Cleaned the BBQ mess off ChoiceDek Classic.
Lowe's® ChoiceDek® with dried out mold stains.
Lowe's® ChoiceDek® Corte*Cleaned®